Idiopathic Pulmonary Fibrosis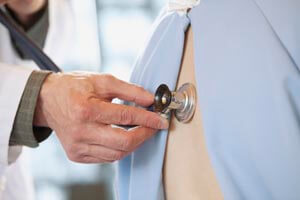 Occurring with increasing frequency, IPF (idiopathic pulmonary fibrosis) is characterized by progressive lung scarring of unknown cause. It often occurs in current or former smokers. Although the clinical course can be slow in nature, occasionally, patients can present with a rapid progression of symptoms.
Symptoms of Idiopathic Pulmonary Fibrosis
Symptoms include progressive shortness of breath, most often with exertion, and a chronic cough. Clubbing of the fingernails can also develop.
IPF Diagnosis
The diagnosis can usually be made on clinical grounds and with the use of high-resolution chest CT scanning. Full pulmonary function testing, pulmonary stress testing, and pulse oximetry are helpful for staging.
Slowing Progression of IPF
Although previously considered a fatal illness, recent advances in the use of antifibrotic agents have been shown to slow the progression of the disease and possibly reduce mortality. Our physicians are well-versed in the use of these agents.
Occasionally, referral for lung transplantation is necessary.
Schedule Your Appointment Today!
Call ☎ (203) 601-7580 to request an appointment.
---
Our Location
Associated Pulmonologists of Western Connecticut
31 Old Route 7, Suite 1A
Brookfield, CT 06804
Phone: (203) 601-7580
Serving patients in Brookfield, Danbury, Newtown, New Milford, Bethel, Waterbury and the surrounding Connecticut communities.